For more information visit www.oracle.com/partners.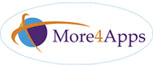 More4Apps ADI Solutions allows you to get more out of Oracle Applications by putting more in. The leading provider of Excel® based integration software for Oracle E-Business Suite. Their solutions integrate Excel with Oracle Projects, Purchasing, Payables, Order Management and Quoting, Assets, Inventory, Manufacturing, Receivables and Human Resources. Combining flexible, powerful, extremely user-friendly interfaces with the functionality of Excel allows for easy data upload including validation, and improves both productivity and accuracy of data entry. Find out more: www.more4apps.com.
Excel4apps is a provider of best-in-class Excel based reporting and budget loading software for Oracle and SAP. Its award winning GL Wand and Budget Wand

products help Oracle and SAP financial professionals save time by delivering accurate and secure information in the familiar Excel environment. The company serves a broad range of industries, including financial services, education, utilities, insurance, hospitality, manufacturing and engineering. All products are available for immediate download and free trial, installing in minutes with no data warehouse and no additional hardware, setup or security configuration needed. Find out more: www.excel4apps.com.
For more information on partnerships with O2Works please contact us.